March 27, 2020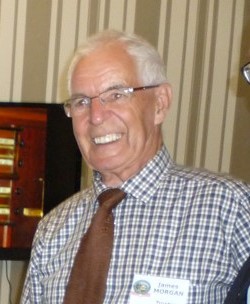 It is with great sadness that the Hawke's Bay Knowledge Bank announces the passing of its founder, James Morgan, on 26 March 2020. Spurred on by personal knowledge of items of Hawke's Bay history that had been lost through negligence or natural disaster, James believed that a digital archive should be established in order to preserve as many items as possible for future generations. He also believed that Hawke's Bay history had to stay in Hawke's Bay and be accessible to everyone, rather than being sent off to National Archives or the National Library and to languish in underground vaults for years to come.
With the help of many others, James set up the Hawke's Bay Digital Archives Trust. The Trust secured a lease for the use of Stoneycroft as the site of the Knowledge Bank in 2011. For the next year, volunteers and businesses alike restored the interior of Stoneycroft to its former glory, all according to NZ Historic Places Trust (now Heritage New Zealand) standards. The latest technology and fibre optic networks were installed, along with many computer workstations and recording equipment. James was the co-ordinator behind all of this and those who were there with him at the time know just how complex and problematic many of the issues were.
It was truly fitting that the Knowledge Bank opened on 1 December 2012, James's birthday. The next few years were spent getting systems established and digitising all the new material that was increasingly being lent to the Knowledge Bank, to the point where today (2020) there are about 70 volunteers who contribute what time they have to the organisation in order to fulfill the dream that James had so many years ago.
James retired from his role as Knowledge Bank manager in 2016 but continued to maintain an active interest in what was happening. The loss of his beloved wife, Leith, in late 2018 and his struggles with his new house in Frimley took their toll on James's already fragile health, but he still managed to attend the annual Xmas party in December 2019.
Hawke's Bay owes a huge debt of gratitude to the foresight and commitment of James Morgan. We will miss him terribly but his legacy will live on.
Sign up to our newsletter